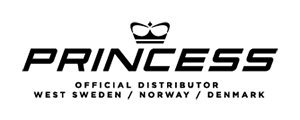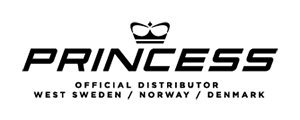 Propulsion
| | |
| --- | --- |
| Motorer | 2x MAN V12 |
| Kraft | 2x 1400 hp |
| Gangtimer, ca | 500 timer |
| Toppfart, ca | 35 kn |
| Motortype | Innenbords |
| Drifttype | Fast aksel |
| Drivstoff | Diesel |
Dimensjoner
| | |
| --- | --- |
| Lengde | 21.25 m |
| Bredde | 5.38 m |
| Dypte, ca. | 1.58 m |
| Vekt, ca | 37500 kg |
| Drivstoffkapasitet | 2x 2050 L |
| Vann kapasitet | 909 L |
| Septiktank | 1x |
ANNEN
| | |
| --- | --- |
| Produsent | Princess Yachts Limited |
| Designer | Olesinski |
| Båtkategori | Motor |
| Material | Glasfiber |
| El. system | 24 V |
| Sengeplasser / Kabiner / WC | 10 / 5 / 4 |
---
Princess 68, årsmodell 2017, i mycket bra skick med dubbla MAN V12-1400 hk motorer med endast ca 500 gångtimmar, mattlackerad inredning i valnöt, hydrauliska bog- och häckpropellrar, stabilisator fenor, dubbla generatorer, 4x nya Raymarine Axiom plottrar mm. 
Vær oppmerksom på at moms er betalt i EU og ikke kan refunderes. Ved import til Norge vil 25% norsk import mva bli pålagt.
GENERATOR • ONAN 19kW dieselgenerator ca 790 h • Extra ONAN 11 kW dieselgenerator ca 633 h
NAVIGATIONSUTRUSTNING • Nya Sept-20: 4x Raymarine Axiom 16 (3 års garanti) • Raymarine AIS klass B • Europeisk plotterversion • 2x VHF • 2x motorinstrumentation • 2x Logg/lod • 2x Autopilot 
DÄCKUTRUSTNING • GRP Flybridge hardtop med elektrisk öppningsbart kapelltak och belysning • Hard top 2.5 inch högre för extra ståhöjd med förlängning klädd i rostfritt stål • Electro-hydraulisk teleskopisk landgång (3.5m) med automatisk reling • Tredje styrplats i sittbrunn (motorreglage, bog- och häckpropellerkontroll och start/stopp) • Två grindar till badplattform • Badstege • Dusch på badplattform med varmt och kallt vatten • Teak på badplattform, sittbrunn, flybridge, sidodäck och fördäck • Electro-hydraulisk badplattform med fjärrkontroll • Soltak till fördäck • Lumishore SMX152 undervattensljus inkl EOS minikontroll i sittbrunn och Lumishore app • Elektriskt ankarspel fördäck med 60kg rostfritt ankare Ultra Marine med 80m/12mm galvaniserad kätting, kontroller på fördäck (med kättingmätare), inre och övre förarplats (Gypsy uppgraderad till V6 12mm Gypsy) • Rostfria knapar, grabbräcken och avbärarlist • Två elektriska vinschar akterut • Färskvattenuttag • Skylight på fördäck / Nödutgång • Soffa och solbädd på fördäck • Stuvplats för förtöjningsutrustning på fördäck • LED däcksljus • Tilläggningsbelysning på flybridge akterut • Flybridge U-soffa med teakbord • Flybridge L-soffa förut som kan konverteras till solbädd • Flybridge solbädd akterut med stuvplats • Flybridge stereo/MP3 med vattentäta högtalare med koppling till Lumishore undervattensbelysning för musiksynkronisering • Flybridge wetbar inkluderande ho, elektrisk grill, lådkyl och ismaskin • U-soffa i sittbrunn • 12V uttag i skåp akterut till luftpump för gummibåt • Teakbänk på akterspegel med stuv • Låsbara luckor till motorrum och stuv • Dörr akterut till crew cabin • Stuvplats för livflotte • Cockpit and flybridge covers in sunbrella supreme charcoal with linen flock • Exteriördynor i Vogue Platinum med specialskum • Extra vattenkoppling på flybridge och vid aktersteg nära duschen • Rostfritt stävbeslag
SYSTEM • Variabel hydraulisk bog- och häckpropeller SH240 med dubbla kontroller med hold-funktion och trådlös fjärrkontroll • Sleipner stabiliseringssystem med VF800 fenor • Sea recovery Aquamatic 1400-2 watermaker med UV sterialisering 190 L/h • Elektro-hydrauliskt styrsystem med hydraulisk back-up • Elektroniska motor och backslagsreglage • Dripless axeltätningar • Motorrumsfläkt med elektronisk tidsrelä • UK 220V / 240V uttag • 4 x heavy duty batterier för motorstart • 4 x heavy duty servicebatterier • 80 A batteriladdare som laddar båda batterigrupperna via automatisk switch • Fjärrstyrda huvudströmbrytare från huvudpanel inne i båten • LED belysning med dimmer • 63-amp landströmsintag • Jordfelsbrytare, polaritetskontroll, brytare på alla kretsar • Uttag i alla utrymmen • Raymarine CCTV system  • Glomex 4G WiFi med 3 Access-punkter i båten • HD-kamera för remote viewing från app på smartphone 
• Thermisk kamera i motorrum via Raymarine screens. 
KLIMATANLÄGGNING/VÄRMARE • Klimatanläggning/värmare inkl utblås i badrum • Klimatanläggning även i crew cabin
INTERIÖR • 4-kabinslayout inklusive fullbredds masterkabin, främre VIP dubbel gästkabin, babord och styrbord kabin med två enkelsängar per kabin • Babord och styrbord kabin med elektrisk skjutbara bäddar för att skapa en dubbelbädd • Crew kabin akterut med två enkelbäddar, garderob, skåp och öppningsbar ventil, elektrisk toalett, ho, separat duschkabin • Inredning i mattlackerad valnöt • Pentry och förarplatsgolv i valnöt • Valnötsdurk i aktre salong vid matplats • Vit pentrybänk i solid surface • Loop Linen matta
INTERIOR EQUIPMENT • 48″ LED TV på hiss i salong med stereo/DVD/MP3 • Harman Kardon 5.1 Blu-ray system (med Bluetooth) och KEF högtalare i salong • Flybridge kopplad till stereosystem i salong • 40″ LED TV med DVD/stereo/MP3 med surroundljud i masterkabin • 28″ LED TV med Fusion MS-AV750 stereo/DVD/MP3 spelare med Bluetooth i främre gästkabin • 22″ LED TV med Fusion MS-AV750 stereo/DVD/MP3 spelare Bluetooth i styrbord gästkabin • Vattentäta högtalare i cockpit med kontroll (kopplade till flybridge stereo system) • 4-zons Miele induktionsspis • Kombinationsugn/mikro/grill • Dubbla diskhoar i rostfritt • Fullhöjds kylskåp/frys • Extra kyl i aktre pentrybänk (50L lådtyp) • Diskmaskin • Salongsförvaring med hyllor för extra förvaring • Skåp, garderober och lådor • Elektrisk handdukshållare i WC tillhörande masterkabin, förkabin och babord kabin • Kassaskåp i masterkabin
Williams 385 RIB finns tillgänglig, men är inte inkluderad. Kan köpas genom separate förhandling.
Informasjonen på denne båten er gitt i god tro og antas å være nøyaktig, men kan ikke garanteres. En kjøper, eller hans inspektør, bør undersøke slike detaljer og betingelser som kjøperen ønsker å validere. Vi forbeholder oss retten til å gjøre endringer eller at båten ikke lenger er til salgs.