PRINCESS 30M
Låt dig uppslukas av en av de mest exklusiva pilothouse yachter, med upphöjd förarmiljö, i världen. Hennes målmedvetna, distinkta design definieras av dig genom en värld av hantverk. Flybridgen är inbjudande stor och innefattar solstolar, soffor, matplats, wetbar och även en pool om så önskas.
Princess Design Studio finns på plats för att fånga själva essensen i din inredningsambition. Och med klassledande inre volym, har du allt utrymme som kan tänkas för att realisera den. Den handgjorda finishen är prestigefylld helt igenom. Och dina gäster kan skämmas bort i tre eller fyra vackert inredda kabiner med eget badrum.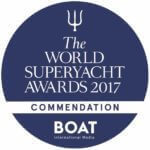 "

The builder's newest M Class yacht is a raised pilothouse with mighty fine features.

"
| | |
| --- | --- |
| Längd | 30.45 m (99′ 11″) |
| Bredd | 7.05 m (23′ 2″) |
| Djup | 2.06 m (6′ 9″) |
| Deplacement* | 108 T |
| Bruttodräktighet | 262 GT |
| Bränslekapacitet | 12200 L |
| Vattenkapacitet | 1600 L |
| Varmvattenberedare | 410 L |
| Gråvattentank | 700 L |
| Holdingtank | 550 L |
GÄSTER
8 personer (4-kabinslayout)
10 personer (5-kabinslayout) – tillval
BESÄTTNING
5 personer, varav:
1 x kaptenshytt på nedre däck
4 x besättning i 2 kabiner på nedre däck

MTU 16V 2000 M94 med ZF3070V @2.75:1 backslag 2 x 2,637mhp @ 2,450 rpm
† Toppfart 25-27 kn
† Räckvidd upp till 1300 nm
MTU 16V 2000 M93 med ZF3060V @3:1 backslag 2 x 2,434mhp @ 2,450 rpm
† Toppfart 24-26 kn
† Räckvidd upp till 1300 nm
MTU 16V 2000 M84 med ZF3060V @3:1 backslag 2 x 2,217mhp @ 2,450 rpm
† Toppfart 23-25 kn
† Räckvidd upp till 1300 nm
CAT C32A med ZF3060V @3.0:1 backslag 2 x 1,925mhp @ 2,340 rpm
† Toppfart 21-23 kn
† Räckvidd upp till 1340 nm